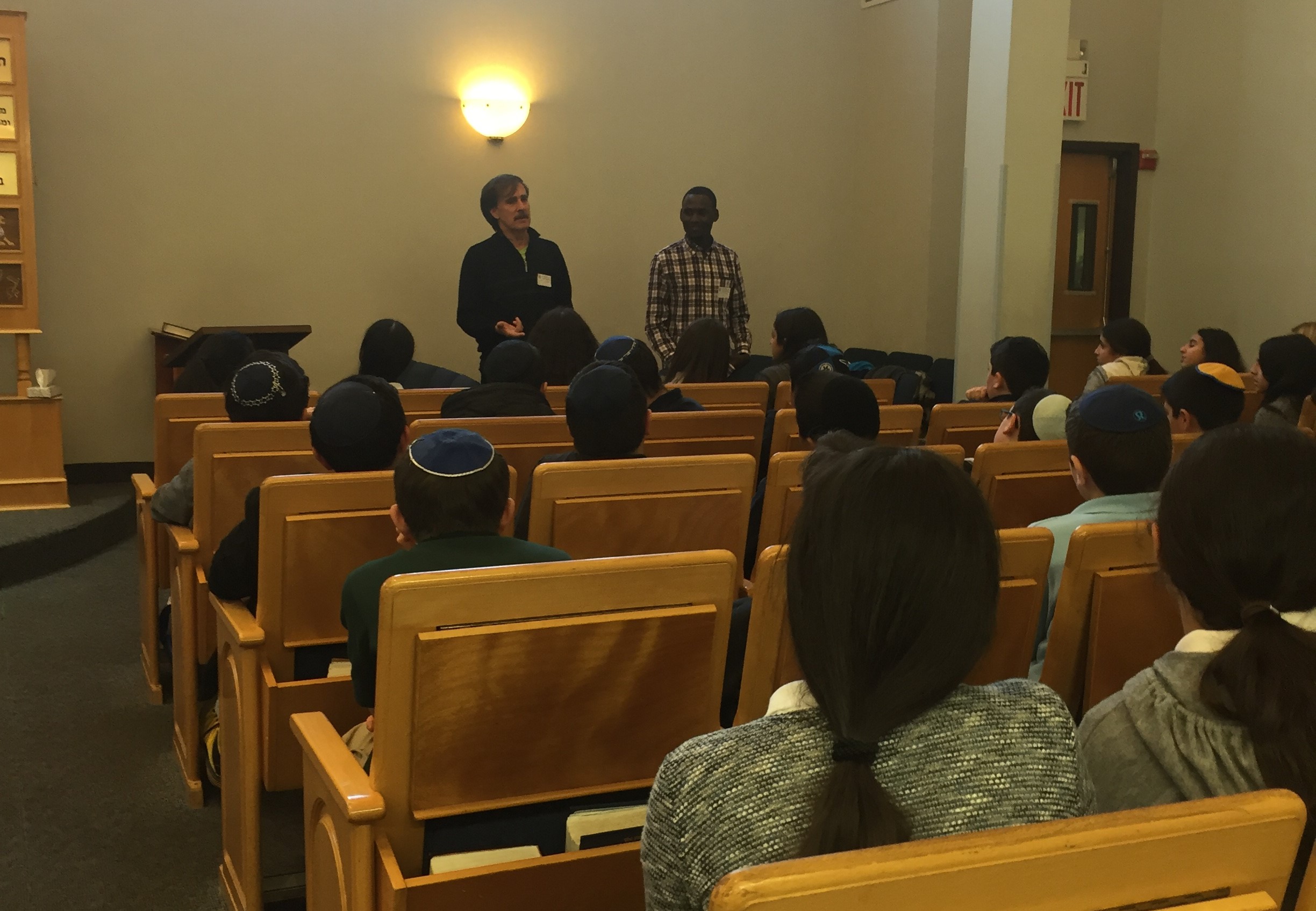 By Ms. Naomi Fredman, Director of Educational Technology
How do we teach our students about the world beyond our sheltered walls?  Under the direction of our seventh grade English teacher Mrs. Lisa Guggenheimer, our students have begun an interdisciplinary unit focusing on global adversity.   Integrating traditional classroom learning with technology and special programming, our students are learning firsthand about the challenges some children face and the ways in which they prevail. 
After reading Linda Sue Park's moving narrative, A Long Walk to Water, which tells the story of the plight of the Lost Boys of the Sudan as a result of the Second Sudanese War, the 7th Grade has begun a year-long correspondence with ZimKids, an organization located in Zimbabwe which rescues orphans, providing them with food, shelter, education and nurturing them to become independent adults.  At a very special assembly in our Middle School, the 7th grade met Tinashe Basa, who was rescued as an orphan in Zimbabwe, and ZimKids founder, Dennis Gaboury.  Prior to the assembly, students viewed a video published on the ZimKids website, and through Google Classroom they had a thoughtful discussion with one another.  At the assembly, Mr. Basa and Mr. Gaboury engaged in an animated dialogue with each other comparing their life experiences.  Next, students were given an opportunity to ask questions.  Many were curious about Mr. Basa's upbringing and asked about his parents, friends, and daily routine.  Students were saddened to find out about the starvation and disease which permeated his childhood and teenage years.  They were amazed at his anecdotes about tasting Coca-cola for the first time.  Last, Mr. Gaboury showed "homemade" dolls, sewn together by the ZimKids and sold to support the orphanage. 
Each student in seventh grade will be paired with a student from ZimKids to contact via email and will soon video conference.  The North Shore Hebrew Academy is extremely grateful to Mr. Basa and Mr. Gaboury for visiting with our 7th Grade and providing us the opportunity to meet and learn from the ZimKids.  We look forward to learning from our peers at ZimKids and forming meaningful new relationships.
To learn more about ZimKids visit www.zimkids.com