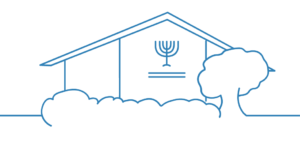 In engaging classes and co-curriculars that challenge and delight every type of learner, our middle schoolers learn to balance their academics, their religious obligations, their friendships, and their families with guidance and support from our attentive faculty.
Middle school students receive a top-tier, comprehensive Jewish and General Studies education. Beginning in the sixth grade, they transition to a departmental format, moving between classrooms to learn from distinguished faculty who have years of professional experience in their fields. With rigorous academics, homework assignments, and testing, our faculty hold high expectations for our students, while always teaching to "the whole child." At NSHA, we are committed to addressing our students' spiritual, emotional, and developmental needs in order to help them grow and succeed.
Beyond the classroom, students have the opportunity to explore their hobbies and interests, express themselves creatively, and participate in their favorite sports in our expansive co-curricular offerings. As they prepare for their high school years, they grow into curious, competent young adults eager to make a difference and take their place in their Jewish community.
Dr. Sharon Applebaum
Rabbi Simon Basalely
Lisa Guggenheimer