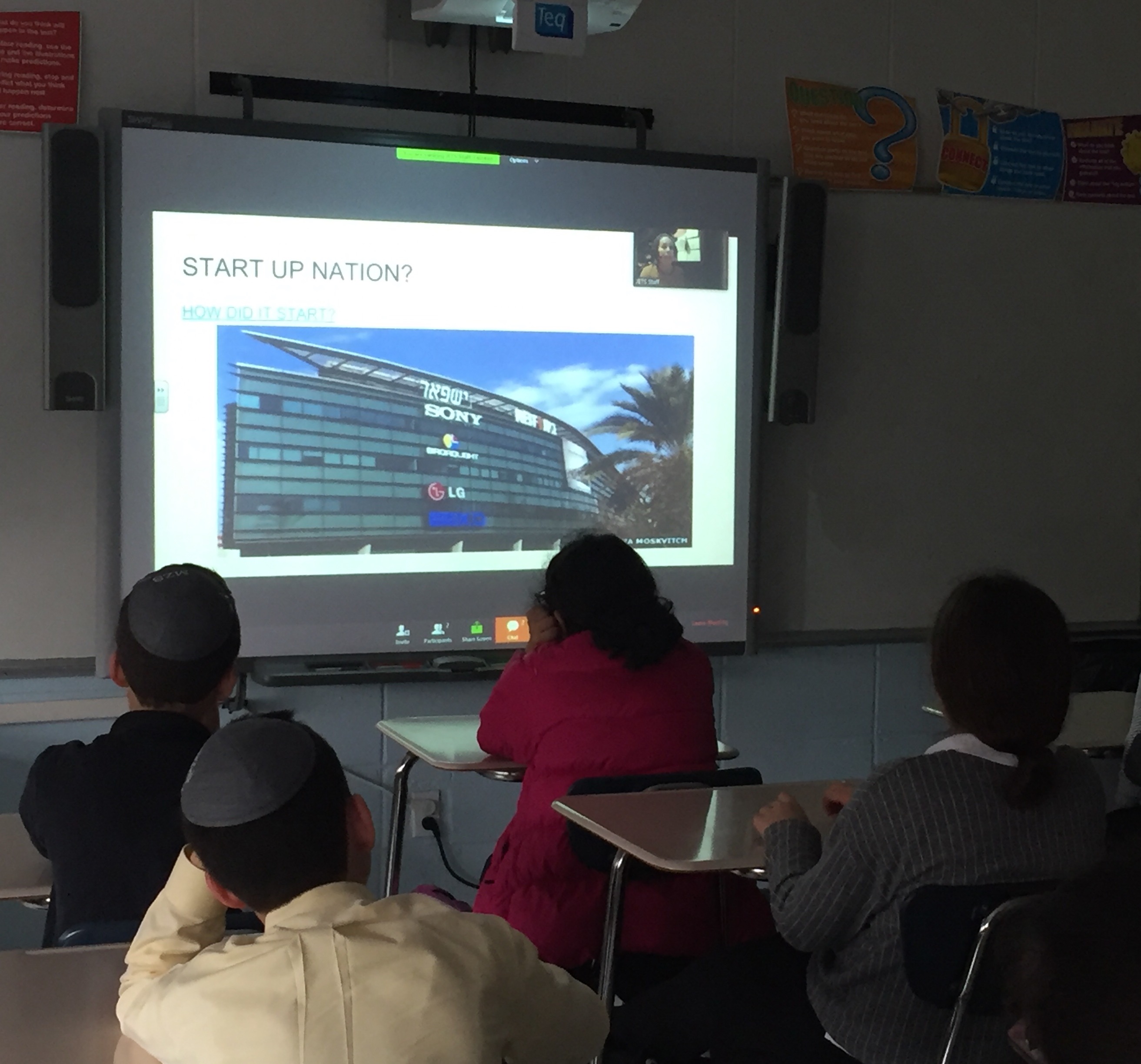 By Ms. Naomi Fredman, Director of Educational Technology
Distance Learning, or distance education, provides students with a wealth of information outside the confines of a traditional classroom. Through multi-media, students can engage in lectures with teachers from abroad.  What better place for the North Shore Hebrew Academy to connect with via distance learning, than Israel? We're partnering with Jerusalem EdTech Solutions Israel (JETS), an organization founded to promote Jewish digital learning world-wide, to infuse Israeli Distance Learning into our Middle School classrooms.  Under the instruction of Mrs. Lori Feldstein, an Efrat, Israel based educator, Morah Jansenson and Morah Karavan's 6th Grade Hebrew classes embarked on a distance learning unit aimed at teaching students about the different modern cities in Israel, and what they are known for, specifically in the field of innovation.
During the first session, Ms. Feldstein "met" the 6th Grade as they entered the classroom via video stream on a webcam mounted on a SMART Board.  Immediately engaged, students took their seats and were transported to Efrat, Israel.  Ms. Feldstein spoke with the class and broadcasted videos and photos of areas of interest including major tourist attractions.  Session II transported 6th Graders to the city of innovation, Tel Aviv.  Students learned the background behind Israeli technologies that affect the everyday lives of people around the world, including the popular navigation app, WAZE, the defense mechanism, the Iron Dome, and PillCam, an ingestible camera that is revolutionizing the medical industry.  We discussed the reasons behind why the Israeli people are known for innovation and students were intrigued to learn that military needs have propelled Israeli innovation since its founding days.  During session III, students will engage in an interactive game and learn about the variety of farming and agricultural techniques used by Israel's earliest settlers.
Using interactive gaming site, Kahoot, students took part in an online quiz.  Each session ended with an opportunity for students to ask Ms. Feldstein questions which ranged from her daily life in Efrat to questions about the Israeli Defense Forces.  Overall, students were given an exciting opportunity to interact with an Israeli educator.  JETS curricula units will be integrated throughout our Middle School classes, allowing us not only to utilize cutting edge technology, but also strengthen our student's knowledge of and connection to modern day Israel.